People come in all shapes and sizes… and so do boxes!  An e-commerce apparel customer recently asked for a solution to make their finished goods packing station more efficient with the understanding that the solution would have to accommodate several different box options for the pickers.  So we rolled out the carton flow racking.
What carton flow rack can do for this customer is to provide single-solution, easy to use, easy to maintain, automatic replenishment for those empty cartons just waiting to be filled.  Because the orders differ, the boxes do as well, so we suggested Dyna-Flo HD (our carton flow workhorse) and we also tested Rack-Trak rails as a second option.  Both Dyna-Flo and Rack-Trak are two of the Mallard carton flow options designed for inconsistently shaped boxes and cartons.
Since we were testing empty cartons our first suggestion was to try the Dyna-Flo HD… yes you read that correctly.  Dyna-Flo HD is designed to handle bulky, heavy cartons, boxes and totes, but it also performs very well for ultra-lightweight materials.  The wide wheels and full-bed design fits right into standard pallet racking and provides smooth, consistent flow for the lightweight material such as these apparel boxes as you can see from the test video:
Some of the test challenges were:
The box lids remain unfolded
The box "feet" protrude out the bottom of the box
Empty boxes are very lightweight
Ultimately the tests proved successful for both the Dyna-Flo HD and Rack-Trak carton flow configurations with only a minor amount of tiling from the open lids.  Both wheeled systems provided enough support for the box bottoms that the "feet" weren't an issue and both systems can be configured to allow ample room between lanes to accommodate the protruding lid flaps without hindering adjacent lanes.  Our engineers did recommend that the customer install lane dividers however to help keep the lanes neat and orderly for the pickers.
Mallard full-lane dividers are custom fitted to your exact carton flow system and they are easy to install and move for reprofiling as needed.
We so often talk about handling heavy, bulky and even delicate inventory that it's unusual for us to explore empty boxes, but if we can help a customer out… well that's what we are here for!
Contact us and let's see what we can do together to find even those small efficiencies that when added to the bigger plan can make all the difference in your inventory goals and bottom line.
 (800) 243-6694 (USA only)
(815) 624-9491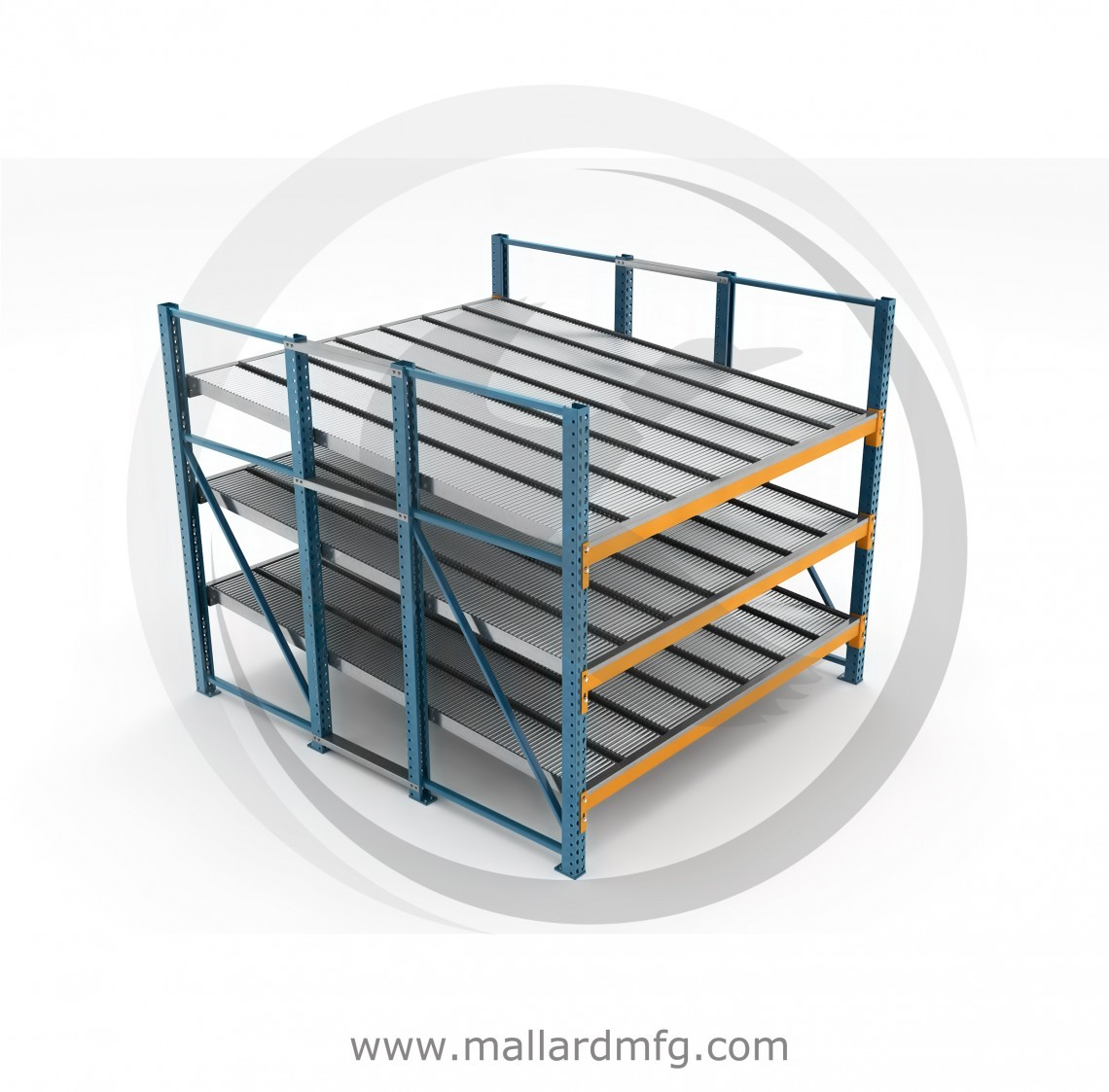 info@mallardmfg.com
Dyna-Flo HD Advantages:
Easily drops into existing pallet rack
Full wheel bed accommodates cartons of all sizes and shapes
Durable wheel and axle assembly
Simple, easy product reprofiling
Consolidates and increases pick slots