Carton Flow for All Shapes & Sizes
Dyna-Flo and Dyna-Flo HD (heavy duty) carton flow are designed to optimize your carton picking operation for inventory of varying shapes, sizes and configurations.
Dyna-Flo's durable, full-bed design of staggered polypropylene wheels provide full wheel coverage no matter what size or shape your inventory takes. It's the perfect option for product mixes with multiple and/or varying SKUs. Available in 12″ to 16″ sections [(6) 16″ sections cover 96″ beam], it's designed to quickly and easily drop into existing pallet rack to create a productive order picking solution with ready reserve storage.
Entry "Flag" Guide for Dyna-Flo and Dyna-Flo HD Carton Flow
Mallard's entry guides, sometimes called entry flags, are customized to fit our carton flow applications and facilitate the order picking speed you require without compromising on order fulfillment accuracy. Adding entry guides to the charge side of your carton flow system helps workers more quickly identify the correct lane for accurate inventory loading of cartons, cases or eaches.
Full-length lane dividers can be used in situations where inventory is required to be kept separate and simply to further improve pick rates and accuracy.
Depending on your system configuration and order picking needs, Mallard has the right carton flow accessory to meet your needs. See our chart for system compatibility:
Carton Flow Entry Guides
Slim-Fit Entry Guides — fit Dyna-Flo & Dyna-Flo HD carton flow on 2″ & 3" wheel centers. The tall profile beneficial for larger product and overall improved visual lane identification.
Dyna-Flo Entry Guide — fits both Dyna-Flo & Dyna-Flo HD 2" & 3″ wheel centers.
Dyna-Flo HD Yellow Guide – fits DFHD 2" wheel centers.
Dyna-Flo HD Orange Guide fits DFHD 3" wheel centers.
Full Length Carton Flow Lane Divider — attaches to either Dyna-Flo or Dyna-Flo HD entry guides. Simply lock into place anywhere along the full width of the shelf bed.
Mallard carton flow entry guides are designed to be easy to handle, quick to pop into place and durable to withstand high-volume order picking needs and system re-profiling is a snap! Our lane guides fit snugly into the entry guides for a secure, dependable lane division that can span up to 20' deep.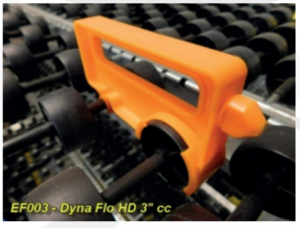 Advantages of Mallard Carton Flow Guides
Maximize carton flow space with precise lane segmentation
Snap-on guides fit anywhere along the shelf bed
Quick re-profiling for product changes and seasonal fluctuations
Improve pick rates
Increase put rates
Reduce picking errors
Full-length dividers ensure SKUs remain segmented
You're not asking for too much when you require productive and accurate order picking… be uncompromising with Mallard carton flow and carton flow accessories.
Download our Specifications Sheet for easy reference: Carton Flow Entry Guide & Lane Divider Data Sheet. Contact the Mallard team for system design ideas and a quote.