Thinking about adding carton flow to your pick area? Or maybe you've been asked to spec carton flow for an order processing or kitting operation? Well you've come to the right place. In less then 2 minutes we will show you the significance of knowing your inventory before deciding on a type of carton flow.
Cart-Trak Roller Carton Flow
We say it all the time but our Engineering Test Lab video is the best way to convey the difference. Watch how the Cart-Trak roller carton flow handles the carton just fine in a single lane, as designed. However, when we try to squeeze in an extra lane of cartons, we lose our efficiency.
Why is that? Because properly fitted roller track should closely match your carton size so that the roller has enough surface area coverage and momentum to spin and flow your inventory down lane. If the cartons are placed half in one lane and half in another, there is a loss of surface area on the rollers, causing flow to either slow down or hang up altogether.
To ensure you get a good fit, Mallard offers 6″, 9″, 12″ and 16″ roller widths to handle most cartons, totes or bins.  We also offer rollers with 1″ 2″, or 3 roller centers to accommodate light to heavy carton weights. Cart-Trak & Cart-Trak HD are galvanized and easily drop into structural or roll-formed pallet rack.
We also recently introduced our new Cart-Trak with bearing rollers. While our traditional Cart-Trak will still be available, we now offer an upgraded Cart-Trak carton flow with bearing rollers as opposed to standard bushings. The bearings offer a few benefits that may not be inherently obvious so check out our web page for more details.
Dyna-Flo Wheeled Carton Flow
What if your cartons types vary in size, shape and/or weight? You will want to use wheeled carton flow like our Dyna-Flo or Dyna-Flo HD carton flow. As you can see in the test video, Dyna-Flo is designed as a full-bed of staggered polypropylene wheels. Our wheels go edge to edge to ensure consistent wheel coverage no matter what size or shape your inventory takes. It is the perfect option for product mixes with multiple and/or varying SKUs.
Dyna-Flo & Dyna-Flo HD are designed to quickly and easily drop into existing pallet rack to create a productive flow system. To make the most of your available rack space, use the Dyna-Flo Design Matrix (below). This simple matrix helps by showing the best combination of standard track widths (12" & 16") to best populate the rack bay.
Ordering Carton Flow
So, what should you know in order to choose the right carton flow solution?
Know all of your current carton weights, sizes and quantities
Select the appropriate roller widths for each carton
Plan for future carton sizes if possible
Lastly, be sure to check out our comparison chart for more detailed information on both Cart-Trak and Dyna-Flo Carton Flow systems and feel free to give the Mallard team a call!  We have experts on hand to answer your questions and guide you to the best solution for your individual warehousing needs.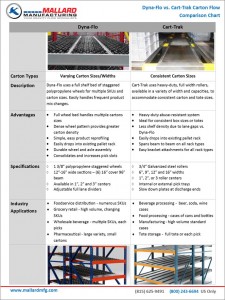 1-800-243-6694 US Only
1-815-625-9491
info@mallardmfg.com