Boost Productivity with Flexible, Portable Carton Flow Work Cells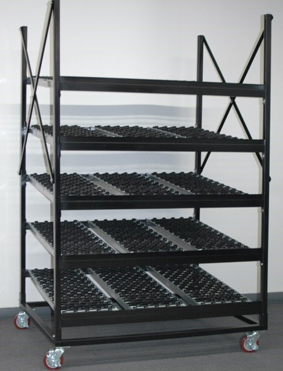 If there's one constant in manufacturing and process planning it's the fact that things change, constantly.  A company's ability to respond to production shifts and assembly change-overs quickly, and with some level of "on-the-fly" flexibility, has a direct impact on production output and ROI.
We have a cost-effective solution for handling these process and assembly shifts – Mallard's new Carton Flow Work Cells – mobile, ergonomic work stations designed with flexibility for easy SKU or shelf changes.  Work cells can be moved where and when they're needed for organized FIFO parts storage and assembly set-up; ideal for short run manufacturing, light assembly, automotive and small parts packaging.
 Why Use Mallard Carton Flow Work Cells? 
Increased Productivity –  Work cell staging provides quick assembly change-overs
Greater Flexibility – Units are easily reconfigured for SKU and line changes
Better organization – Keeps inventory of parts organized with FIFO stock rotation
More ergonomic – vs. shelf or pallet storage; easy access to parts from carton flow and tilt tray
Mallard Dyna-Flo, Dyna-Flo (HD) and Cart-Trak carton flow tracks can be integrated in the work cell; selection depends on carton specifications. Shelves have infinite vertical adjustiblity to accommodate frequent SKU changes.
Work Cell Specs:
Widths –   32″, 48″ and 60" clear
Depths –   24″, 42″ and 60″
Height – 84" posts/standard
Finish – black/standard;  gray & blue finish/special order
Illustrations:
Mallard Carton Flow Work Cell with Dyna-Flo – with and without order picking tilt-tray
For more information regarding Mallard Work Cells, or if you need help defining your requirements, call our carton flow specialists. They'll help you design the optimal product configuration for maximum picking efficiency.
1-800-243-6694 US Only
1-815-625-9491
info@mallardmfg.com