The good news is… probably not.
All Mallard carton flow systems, from Cart-Trak roller systems to Dyna-Flo and Dyna-Deck full bed carton flow, provide smooth product flow with consistent lane tracking. There are, however, some applications that mandate 100% product separation, like pharmaceutical, medical devices or automotive manufacturing for example, where order picking accuracy is extremely critical.  Dividers may also be needed for awkward or tall cartons. For these applications, or if you just want better lane visibility, our full lane dividers are a simple, cost-effective fix.

Mallard full length carton flow dividers lock into place anywhere along the full width of the shelf bed and can easily be moved for frequent product re-slotting.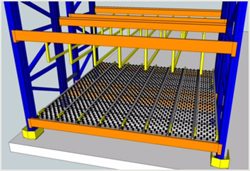 Advantages & Specifications
Quick snap-on installation anywhere along the shelf bed
Compatible with Dyna-Flo, Dyna-Flo HD, Dyna-Deck and Cart-Trak system
100% adjustability along full carton flow shelf bed
Easily moved to accommodate product changes
Lane guides span full shelf depth – up to 20' deep
Do you want to consolidate your order picking operation for better space utilization and improved productivity? Just ask our gravity flow experts for a sample shelf level for your facility.
Check out our easy installation video
1-800-243-6694 US Only
1-815-625-9491
info@mallardmfg.com