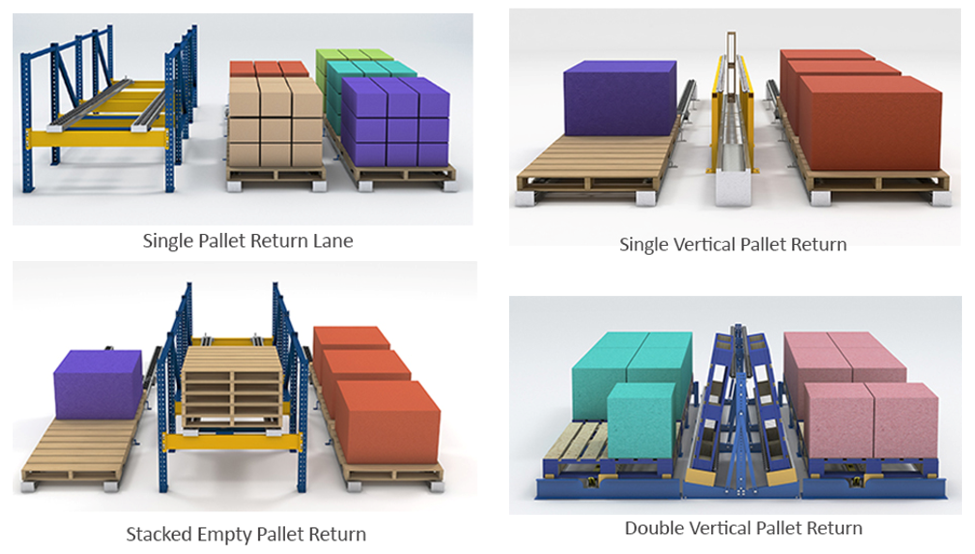 Order fulfillment efficiency is enhanced with a fast, safe, and easy way to remove empty pallets. Let's face it, the goal of the pick aisle is to move through inventory accurately and quickly. Pallet flow rack is a perfect way to do that, but when the cases are all picked why slow down the workflow or create a congested and unsafe work area with a clutter of empty pallets? Installing empty pallet return (EPR) lanes within your pick aisle provides a convenient way to remove the empties and it helps protect the pallets from damage so that they can be reused or returned for restocking. See the EPR lanes in action in our 3D animated video.
Benefits of EPR Lanes for Case Picking
Enhance worker safety
Protect pallets from damage
Increase restocking efficiency
Reduce pick aisle congestion
EPR Lanes are part of our pallet separator line of products. EPR lanes are pallet flow lanes reverse engineered to flow away from the pick aisle and back to the charge aisle. When the empty pallets arrive, they can simply be removed from the lane. The EPR lane is designed to be as deep as your pallet flow lanes. Depending on the system type that best fits your needs, empty pallets can be removed manually or via forklift or pallet jack.
---
Choose from 4 Lane Design Styles
Single EPR Lane
Pallets are placed flat and flow with ease to the opposite aisle for extraction.
Stacked EPR Lane
Best suited for high-volume case-picking, workers can accumulate 5-6 stacked pallets before releasing them to flow to the opposite aisle for removal. The EPR 700 pallet separator is installed to hold the pallets in place until they are released with a hand lever. The EPR lane is carefully designed to control the flow of the pallets for optimal worker safety and protection of the warehouse equipment. Pallets can be removed from the lane by forklift.
Vertical Single & Double Vertical EPR Lanes
The vertical design positions the pallet upright to flow to the opposite side. The slim layout maximizes space while optimizing efficiency. Pallets flow easily as they are guided by two sets of wheels at the top and bottom of the lane.
ERP Series Lane Design Considerations
Created to enhance pallet flow case-pick applications
Suited for use with GMA, CHEP & plastic picture frame pallets
Compatible with wheeled and roller pallet flow
Locate EPR lanes approximately every 4th to 5th pallet flow bays
To see how empty pallet return lanes can transform your order picking operation into a model of efficiency, call the Mallard gravity flow specialists. We will assess your operation and design the best application to meet your needs. Contact us today.
If you'd like to learn more about designing EPR flow lanes check out our 7 FAQs for Empty Pallet Return Lane Design