Extend-a-Rail – Mobile, Expandable Pallet Flow
Mobile, Expandable Pallet Flow Staging…  Where & When You Need It
Introducing Mallard's latest pallet flow innovation- Extend-a-Rail and Extend-a-Rail HD developed to provide a cost-effective solution for instant FIFO pallet flow rack storage where and when it's needed. Ideal for dock staging, assembly and wave-picking applications, Extend-a-Rail delivers measurable productivity improvements and labor savings by reducing travel time; from production line to storage area, dock to truck for order fulfillment, or truck to pallet for carton offloading and pallet building.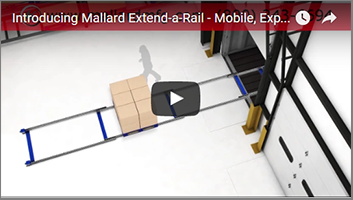 Extend-a-Rail rolls into place as a compact telescoped unit that expands into a dense, push-assisted lane up to 10 pallets deep. Once locked in place and fully extended, pallets are loaded on one end and walked/pushed along the durable wheeled tracks to the opposite end for forklift extraction.  After all pallets are removed, the lane folds back into place for storage or to be moved to the next activity area.
Check out our video animation showing Extend-a-Rail in action for efficient, time & space-saving truck offloading and pallet building.
Extend-a-Rail is designed to support individual pallets up to 900 lbs. each on its steel skate wheel rails while Extend-a-Rail HD will accommodate pallets up to 2000 lbs. each on durable 2.9 diameter poly wheels.  Both items are manufactured to Mallard's strict standards to provide long life-time usage in busy warehouse conditions.  We recommend GMA-style pallets such as PECO and CHEP pallets for the most effective optimization.
Download the Extend-a-Rail Spec Sheet.
Advantages
Creates mobile, expandable pallet staging
Allows flexible use of storage, assembly or dock areas
Saves labor costs by reducing travel time
Improves speed & efficiency of warehouse activity
Features
Retractable design offers a variety of lengths
Flip-down handle makes it easy to move and fold for compact storage
Feet lock in place to easily brace and stabilize the unit
Light, yet rugged aluminum rails ensure easy transport
Anti-backup devices can be used to prevent pallets from shifting
Applications
Truck offloading to full pallet
Inbound pallet building
Wave picking to pallets
Stripping finished goods off pallets
Manufacturing processing
Staging out-bound
Areas with limited lift truck access
---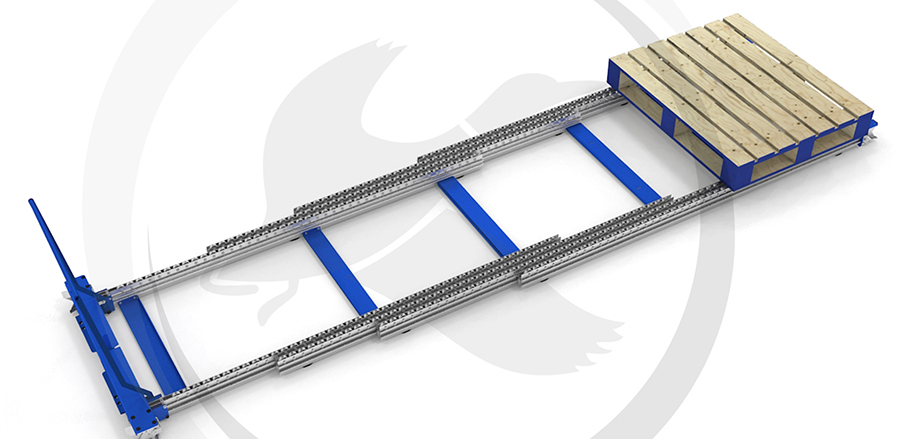 More Extend-a-Rail Illustrations