We are all about solving material handling challenges here at Mallard and while back pressure of bins or totes on gravity conveyor may not seem obvious to some, it can be a serious challenge in picking, assembly and manufacturing operations.  Taking a page from the Ergo technology used in our Ergo cell pallet flow separators, we have designed a pneumatic device for separating totes or product in deep-lane 1.9" roller conveyor configurations.
As you can see from our test video, the roller conveyor is equipped with button-controlled pneumatic separators that isolate the front position but also separates the last item in the charge position from the rest of the totes on the conveyor.  This dual separation provides a unique scenario where not only the pick position is safer and easier to access but the load position is as well.
A fail-safe is built into the device that locks the separators in position when no air is being forced into the pneumatic controls.  In the fail-safe position, totes or product remain separated at both the charge and discharge locations of the lane.  When the system is released the totes index gently down lane until the pick face is replenished.  The load-side separator is fixed at that point to be able to accept an item into the lane without causing additional pressures in the lower part of the lane.
When we say the back pressure can be a challenge, what are we talking about?  Well, for example, a recent deep-lane roller conveyor configuration for an energy product customer called for between 10-20 tote positions… for totes weighing upwards of 110 lbs. each.
Example:
10 Totes @ 110 lbs. each = 1100 lbs.
20 totes @ 110 lbs. each = 2200 lbs.
Installing the pneumatic separator removes those forces with the simple push of a button and takes with it the difficulty and danger of picking a heavy item and not having it come cleanly off the rack.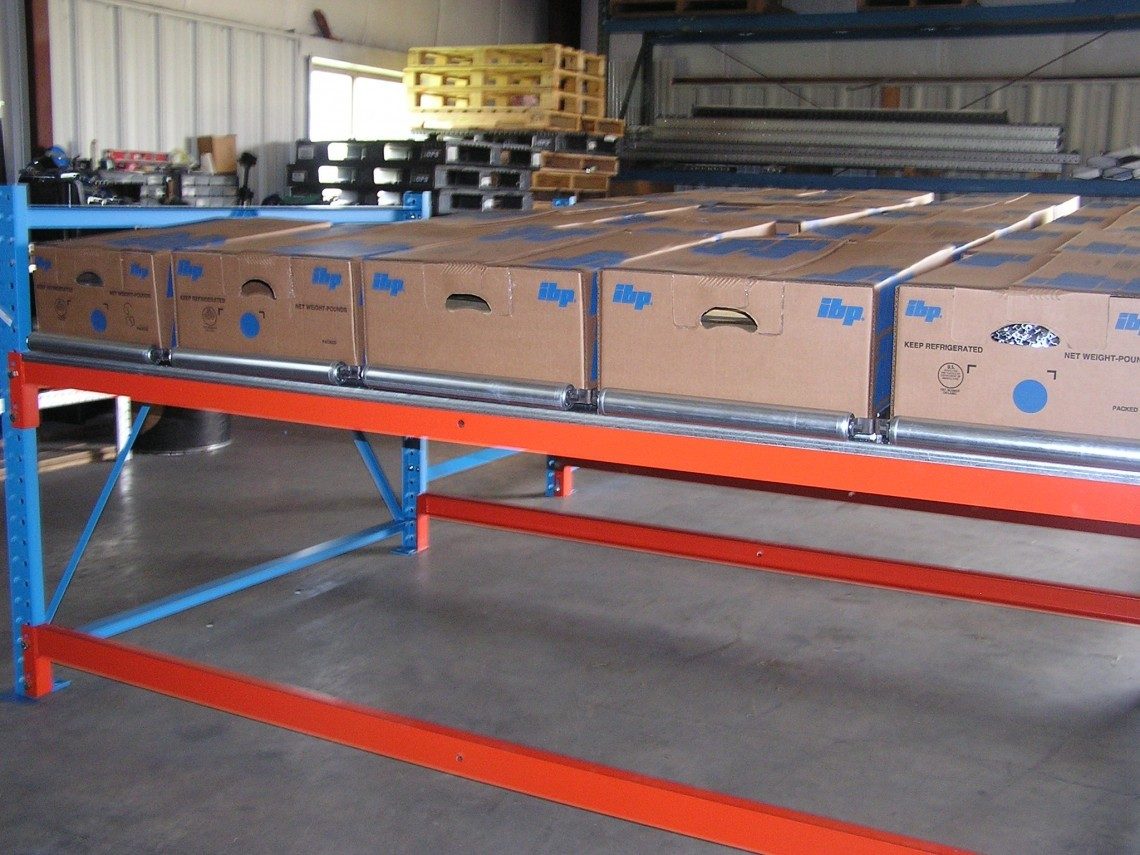 Advantages of Roller Conveyor Separator:
Removes dangerous back pressure from pick face
Facilitates fast, safe, easy each picking from tote
Accommodates robot or crane picks – each & full tote picks
Pneumatic controls simple and safe to operate
Reduces worker injuries
Extremely economical solution vs. powered conveyor
 Applications:
Each-pick from totes/cartons
Full tote/carton picks
Parts assembly operations
AS/RS crane applications
Assembly
Line-side manufacturing lines
Mallard gravity roller conveyor are a lightweight conveyor option for both permanent and temporary applications.  In the video we show our 1-3/8" diameter roller conveyor but it is also available in a 1.9" diameter for medium weighted product.
Mallard Gravity Conveyor:
Available in 1-3/8th and 1.9" diameter rollers
Aluminum or galvanized steel rollers
Bearings: zinc plated, lightly oiled, swaged
Axles:  5/16" round spring loaded
This is just another application born from the need to satisfy a customer challenge. So, what's your challenge? Give us a call and let's see if there's an economical, gravity flow solution available or one just waiting to be born!
(800) 243-6694 (USA only)
(815) 624-9491
or info@mallardmfg.com