Gravity conveyor is an effective tool in the toolkit of an efficient warehouse. It is an economical way to quickly and easily move cases, cartons, totes, and single items for order processing, manufacturing & assembly, kitting, shipping & receiving, and/or for general conveyance of flat-bottomed or rigid-bottomed materials.
Gravity conveyor is modularly configured to ensure that it conforms most effectively to your space and operational needs. Mallard offers conveyor rack fitted with rollers, skate wheels, or polycarbonate wheels to suit all warehouse conditions and inventory specs. And now that just got even easier with our new adjustable guards.
Mallard Adjustable Gravity Conveyor Guards
Our adjustable guards are manufactured with the same attention to detail and quality as our standard guards. They are designed to provide added employee safety for varying sized inventory and to grow with your operation as needed.
The guards are constructed from galvanized steel channel for use in all climates and wash-down conditions. They bolt to the underside of the conveyor frame and affix to the top flange of the frame.
Advantages of Mallard Adjustable Gravity Conveyor Guards
Improve warehouse safety
Eliminate worker injuries – protects against sharp edges and moving parts
Keep inventory in place reducing inventory damage
Adjust heights for varying carton sizes
Durable construction for busy processing areas
| | |
| --- | --- |
| Adjustable Guards for Gravity Conveyor | Easy Bolt-On Connection |
The Mallard Difference
Mallard offers a range of gravity conveyor products to handle lightweight and medium-weight unit loads. Choose from:
Skate wheel conveyors are used for lightweight unit loads in standalone applications or system solutions. They are versatile, maintain product orientation, convey product freely and efficiently, and are available in aluminum or galvanized steel.
1-3/8" X 18 gauge roller conveyors can be applied to integrated systems or temporary operations to convey lightweight products. This roller system is very adaptable to inventory changes and is available with aluminum and galvanized steel rollers and frames.
1.9" X 16 gauge roller conveyors are permanent installations for light to medium-duty applications. Choose from a variety of designs and standard lengths, custom lengths are available.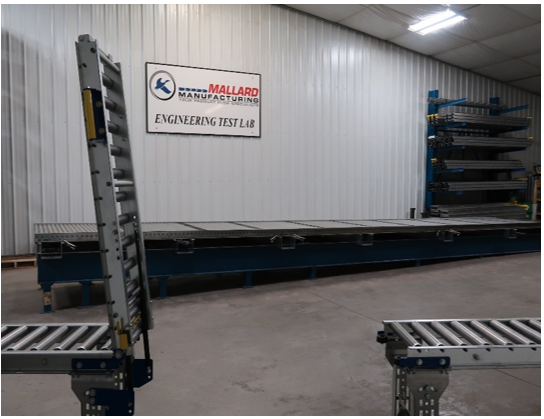 Gravity Conveyor Benefits
Install permanently or temporarily depending on need.
Use with push-assisted systems (level) or gravity-assist.
Choose from a variety of standard straight & curved lengths. Customization is available, if necessary.
Save on batteries, electricity, and maintenance, these workhorses are dependable and effective as standalone or within pick modules or work stations.
Call our gravity flow experts to discuss your operational challenges. Our team is experienced at finding the smartest solutions to meet your long-term needs. Be sure to Ask for the Roll-Over Frame designed with rounded edges that don't catch and damage cartons, totes, or hands. And… our newly designed hydraulic lift gate assembly allows workers to safely pass through the conveyor line to make the best use possible of your warehouse footprint and save valuable labor time and costs. We look forward to working with you.