Gravity conveyor is the most affordable and reliable way to move materials from point A to point B.  You'll see its rollers at work in receiving, processing, order fulfillment, staging, assembly and loading docks. Non-powered gravity sections are positioned flat for push-assisted applications or minimally sloped to flow with gravity.
Constructed of heavy gauge galvanized steel, Mallard's gravity conveyor can be configured for existing pick or process lines or used as stand-alone and temporary unit. Conveyor sections are available in a variety of lengths, widths and rail heights to meet your specifications.  Our heavy duty rollers are constructed to support a variety of load requirements including uneven or awkward containers.  We use permanently lubricated ball bearings to maximize life and minimize jams.
Gravity Conveyor Advantages
Minimal Investment – relies solely on gravity, no need for expensive motors
All Galvanized– clean, heavy duty and food safe
Low Maintenance – Rollers do collect debris, preventing hang-ups
Versatile –  A wide variety of roller widths, lengths and heights allows full customization
Flexible – Used for a large number of material handling applications
Gravity Conveyor Applications  
Work in Process
Assembly
Order Fulfillment
Work Stations
Receiving/Shipping
Improved Design for More Comfortable Order Selection – Traditional gravity conveyor rails had sharp edges which could catch the order selector's hands, clothing or cartons.  As a result, pickers used caution to avoid these edges.  Mallard responded by creating a roll-over frame rail with a smooth, rounded surface.   Not only were the sharp edges removed, but the new design also protected the rollers from impact and debris, with little to no added cost to the system.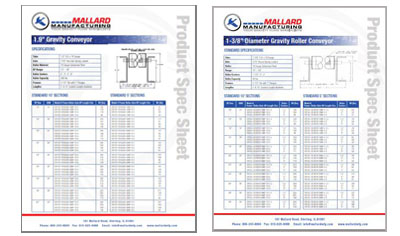 Call our gravity flow experts for advice or a project quote – (800) 243-6694