Mallard Rolls Out 200th Gravity Flow Blog
In 2014 we started a blog series about Mallard gravity flow products – namely our pallet flow rack, carton flow and gravity conveyor product lines. Four years and 200 blogs later we're proud that this series has evolved into a successful and useful tool for so many in the material handling industry.
Our purpose was and still is simple…
To share creative gravity flow storage applications
To create a live resource for our dealers, integrators & customers
To educate our customers on Mallard gravity flow products & accessories
However, what we've been able to accomplish in the process has surprised even us. To access the entire blog series, click on the main Blog page. We encourage you to use the Search bar on the top of the page to find the solution you need. Here's a quick recap of all that you will find there:
Gravity Flow by the Numbers:
Pallet Flow
Roughly 100 blogs have covered all aspects of pallet flow lane designs and wide-ranging configurations and applications.  From complex deep-lane systems to pallet flow case-pick modules, we've covered it all for full and split-roller pallet flow and wheeled systems like our heavy-duty Magnum Wheel. We've discussed ways to use custom mounting brackets, lane pitch and pallet flow accessories to optimize space and order fulfillment.
We've also introduced several new product innovations including the 2.5" full roller pallet flow and new and improved pallet flow entry guides and heavy-duty ramp stops.  Mallard customers have also seen our continually expanded product and accessory lines including our pallet flow speed controllers with 5 options designed to tailor-fit your system.  We also have expanded our extensive line of pallet separators – all designed to control rear pallet forces to ensure safe, efficient order fulfillment and pallet extraction.
 Pallet Separators
Carton Flow
While the need for palletized inventory storage systems are many… over 50 blogs have discussed carton flow rack solutions for cartons, totes and each-pick operations. We have several types for carton flow available for both consistent carton sizes or varying sized cartons or totes. You'll learn where and when to apply customizable accessories like impact and tilt trays to enhance carton flow efficiency and lifespan.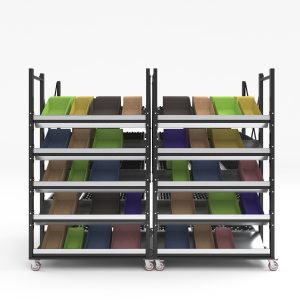 In the fall of 2015 we introduced the carton flow work cell — Carton flow work cells are mobile, ergonomic work stations designed to be flexible for easy SKU or shelf changes. Work cells can be moved where and when they're needed for organized FIFO parts storage and assembly set-up. They are ideal for short run manufacturing, light assembly, automotive and small parts packaging. Mallard Dyna-Flo, Dyna-Flo (HD) and Cart-Trak carton flow tracks can be integrated into the work cell… depending on carton specifications. Shelves have infinite vertical adjustability to accommodate frequent SKU changes.
This was just one of many new carton flow products developed to fill a customer need. Our blog series continues to update customers with new uses for this and many other new products.
Bottle Pick & Keg Flow
Speaking of new products, Bottle Pick Rack is our newest product line. With nearly 10 blogs dedicated to describing the features and design applications for Bottle Pick and Keg Flow, these two products really come to life in the dedicated 3D video animation. The blog series goes hand-in-hand with our website and YouTube channel in providing access to all things Mallard… and that includes over 100 videos. All it takes is a quick search to see if we've already discussed your warehousing challenge in our blog series and from there you've got specs and in most cases a video!
Tires, Super Sacks, Drums and More
If your challenge is uniquely shaped inventory, pallets or containers, the Mallard In-House Testing Lab is your go-to problem solver. This team is the largest contributor to our blog series (with too many blogs to count) because they are responsible for taking on customer challenges to see if gravity flow can provide the solution… and not just any solution. They work until they find the best solution to ensure customer satisfaction and warehousing goal success.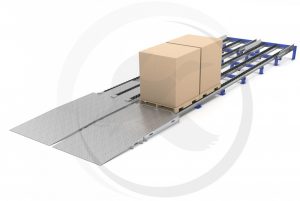 Specialized solutions developed by Mallard In-House Engineering Testing Lab include, to name a few:
​​
The blog format gives us a chance to outline the test lane features and include all the developmental ups and downs that go along with creating new solutions to difficult challenges. Our blogs include the test video, so you can see for yourself how each application is structured and how it works.
The Total Package
Mallard is more than the products we manufacture. For four years we've blogged about web-based resources such as downloadable product brochures, spec sheets, and order forms, 3D illustrations and product photographs. We've written 7 blogs about our proprietary M-Elevation schematics as well. Again, all of these are value-added, customer support items that can be found via the blog series or on mallardmfg.com.
As we look to our 201st blog, we pause to Thank You for taking this journey with us. We appreciate the support we've received from industry partners and customers, and we look forward to continuing to work together on improving warehousing processes and providing solutions to meet ever-changing customer needs.
1-800-243-6694 US Only
1-815-625-9491
info@mallardmfg.com