A New Year, A New Business Milestone
2020 marks Mallard's 60th year of providing gravity flow solutions for the material handling industry! While supply chain and distribution has changed dramatically over those 60 years, the Mallard team has continued to innovate and expand our solutions and services to benefit customers across a broad spectrum of industries including automotive, food & grocery, retail, electronics, consumer goods and e-commerce.
Automation and technology, storage & distribution efficiency, customer demand & expectation are the drivers in today's warehouses, and we know that the only road to success is to make these drivers work together. That's just what gravity flow can do! As we look forward to what's in store in the next decade, here's a quick glimpse back at a few of our 2019 creative storage solutions.
Pallet Flow Solutions
Carton Flow Solutions
Signature Applications
Gravity Conveyor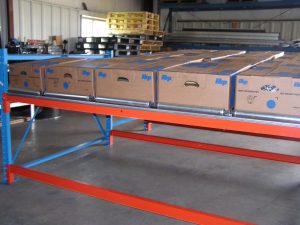 Contact the Experts
The Mallard gravity flow experts are on hand to review your current operational challenges or work out creative solutions for new and retrofit applications, just give us a call! And, as always, we can test your application in our in-house Engineering Testing Lab prior to purchase to ensure our solution will meet your expectations.
Happy New Year and we look forward to working with you and your team in 2020!