Does it feel like we all took a little detour this past year? As the Mallard team looks back, we see that despite the challenges, we have a lot to show for the past 12 months. New products and innovations, new tools to help our customers and lots of good advice and demonstrations. By setting our eyes on the task at hand, we blaze a new trail, and what better outlook to have as we head into a new year?
So, let's focus on the positive! In case you missed any of our new material, here is a sampling of the pallet flow, carton flow and gravity conveyor products and information we released in 2020.
Omni Channel Gravity Flow Solutions
Pallet flow, carton flow, and gravity conveyor come together in an omni channel fulfillment operation to provide seamless and efficient operation and optimize labor and equipment resources. Take a look at some of the advice we offer for combining systems to meet fulfillment goals.
Gravity Flow Solutions for Omnichannel Order Fulfillment
---
Pallet Flow Rack
Pallet Separator Product Line Update

Pallet separators are designed for safer, more productive use of pallet flow lanes when extracting either full pallets, carton layers, or individual boxes from a lane. The separators isolate the front pallet from the rear pallets removing all the back pressure so that the front pallet can be quickly and easily pulled from the lane.
Our product line of separators was updated to ensure that they work with all types of lane configurations (wheeled and roller) and with all major sizes and types of pallet materials (wood, plastic, metal).
Pallet Flow & Automation
As many warehouse and distribution facilities turn to automation solutions for a variety of tasks, we have developed tools to help customers integrate their gravity flow systems with AGVs and automated picking devices.
Again, pallet separators uniquely designed for layer picking and case picking give a big productivity boost for order fulfillment. Additionally, a scrapper plate is the tool you need for efficient pallet loading via AGV or turret truck. Why a scrapper plate? The scrapper plate catches the pallet once it is loaded into the pallet flow lane from a vehicle that can not tilt the pallet down onto the wheels or rollers. Here, watch how the scrapper plate functions in the lane:
Pallet Flow Rack Best Practices
The Mallard Best Practices blogs and videos offer actionable advice and troubleshooting tips direct from our engineering team –These blogs are all searchable on our website, just type in "Best Practices" to find them all listed.
Similarly, our instructional videos demonstrate How-To handle specific tasks in a step-by-step manner.
Pallet Flow How-To Videos:
---
Carton Flow Rack
Taking center stage as fulfillment centers shift towards e-commerce and the resulting smaller, more individualized order processing, carton flow rack delivers. Additionally, carton flow can be set up using a single aisle for load and pick functions or two separate aisles. It's a versatile and cost-effective pick, pack and ship solution for today's labor-challenged, time-sensitive landscape.
Many facilities are considering supplementing their human work force with automated picking and packing systems. Carton flow rack is easily equipped to be compatible with pick-to-light, voice pick and robotic arm devices.
Talk to the Mallard team to ensure your carton flow rack is designed to maximize pick faces and ergonomically positioned to assist workers in making fast, accurate picks. Even better, let us test your carton flow rack design with sample inventory to ensure it is optimized for the fastest ROI and long-life.
Carton Flow Rack Best Practice & How-To
Once again, the in-house engineering team fired up the carton flow rack to present easy-to-follow demonstrations and video tutorials for our customers to access at any time. Here is a sample of this past year's carton flow Best Practice & How-To videos.
---
Gravity Conveyor Racking Systems
Gravity conveyor is a cost-effective warehousing tool that delivers on efficiency and productivity. It is an economical way to quickly move cases, cartons, totes, and/or single items for pick, pack, and ship activities.
Gravity conveyor is also a great tool in manufacturing facilities for production and assembly, shipping & receiving.
Mallard gravity conveyor is modularly configured so it is easy to work it into virtually any space. It can be equipped with rollers, skate wheels, or polycarbonate wheels to suit all warehouse conditions and inventory specs.
2020 improvements to our gravity conveyor line include:
New Adjustable Guards and Hydraulic Lift Gate Assembly.
| | |
| --- | --- |
| Gravity Conveyor Rack Adjustable Guard | |
| | | |
| --- | --- | --- |
| Gravity Conveyor Rack Hydraulic Lift Gate | | |
---
Push-Back Pallet Flow Rack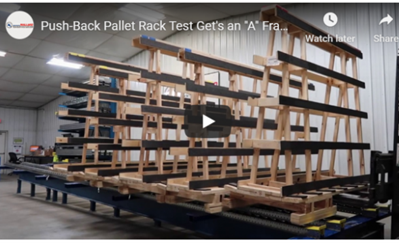 One last gravity flow solution that can really deliver when warehouse space is tight is push-back pallet flow. Pallet flow lanes can be configured to be accessed from a single aisle for both loading and picking while still offering the deep-lane, low-profile storage it is know for. Our team shared system design advice for a recent customer application and even tackled a challenging video demo for a customer in need of a better solution to floor storage for oversized frames.
---
As we stated earlier, it's been a busy year at Mallard Manufacturing. We are so pleased that we were able to develop solutions to address customer concerns as they encountered them throughout the year. We consider ourselves problem solvers, all we have to do is just harness the power of gravity to do it. How can we help you today? Call the Mallard team and let's put gravity to work for you!