Mallard Mfg. Updates Pallet Separator Product Line to Meet Challenging Warehousing & Distribution Demand
New & Improved Separators Fit All Pallet Flow System Types and Pallet Styles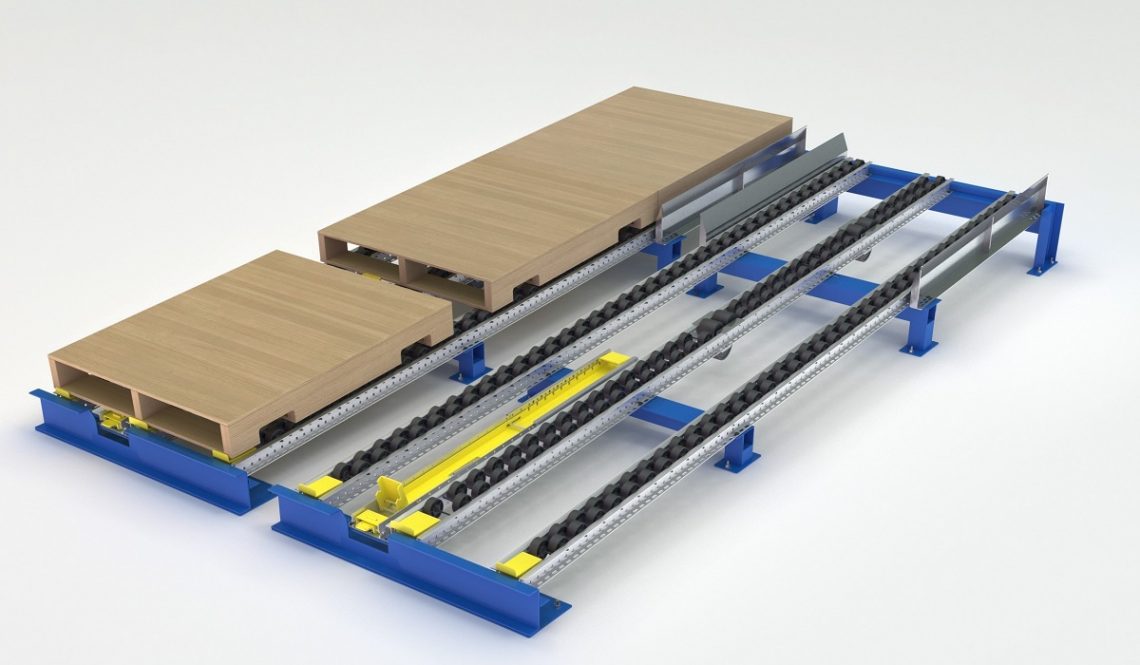 Mallard Manufacturing, leading manufacturer of gravity flow storage products releases new and improved pallet separator line of products for pallet flow. Pallet flow separators play a vital role in a pallet flow lane. Pallet separators isolate the front discharge pallet from the rear pallets thereby removing the back pressure inherent in a gravity flow system. The pallet separator allows for the front pallet position to fill than it engages to hold and lock rear pallets a few
inches behind. By isolating the front pallet, it can be removed quickly and safely from the lane. Once the front pallet is removed, the pallet separator is released and the rear pallets flow forward.
"Mallard has seen a surge in demand for pallet separators," explains Kevin Risch, President of Mallard Manufacturing.
"The separators enhance ergonomic case picking making it faster and safer for workers, and they also enable the transition to automation interface for robots, AGVs, and autonomous vehicles. Another interesting note that we have seen recently is the addition of separators to create flue space in deep-lane systems in order to receive Certificates of Insurance," adds Risch.
The formula for calculating back pressure is approximately .06 lbs. multiplied by the pallet load weight and then by the number of pallets in the lane. Therefore, the heavier the pallet and the deeper the lane, the more back pressure builds up.
Back Pressure Formula:
.06 x (maximum pallet load weight) x # of pallets
Examples:
3-deep pallet flow system/2,500 lb. load. Back pressure = .06 x 2,500 lbs. x 2 pallets = 300 lbs.
20-deep system/2,500 lb. load. Back pressure = .06 x 2,500 lbs. x 19 pallets = 2,850 lbs.
A Pallet Separator for Every Pallet Flow Need

Pallet flow systems are applied to solve a large variety of warehousing functions; therefore, 7 unique types of pallet separators are manufactured to meet each need. Additionally, within the pallet separator types are options that are best applied for either wheeled or roller pallet flow. Choosing a wheeled or roller pallet flow system largely depends upon pallet specs and so, no matter the system design, the Mallard team has a pallet separator solution for the lane.
Mallard Pallet Separators:
Visit the Mallard website for system details, photo gallery, videos, and illustrations.
About Mallard Manufacturing
Founded in 1960, Mallard Manufacturing Company is a leading international resource for the design and development of quality engineered gravity flow, pallet flow and carton flow systems. From a single bay of carton flow shelving to deep-lane pallet flow and complex pick modules, Mallard's team of gravity flow experts develop custom solutions to solve the toughest material flow challenges. Centrally located in Illinois USA, Mallard's production facilities are equipped to handle project requirements of any size and scope.