2.5" Diameter Pallet Flow Handles Heavy-Weight Plastic Pallets
The customer is always right, but we also know a thing or two. So, when we were asked to provide a 2.5" full roller pallet flow option to our pallet flow rack product line we were happy to oblige. However, we also felt the need to see if there was any way to improve upon a standard 2.5" roller pallet flow lane… here's where that thinking took us.
Introducing Mallard 2.5" Full Roller Pallet Flow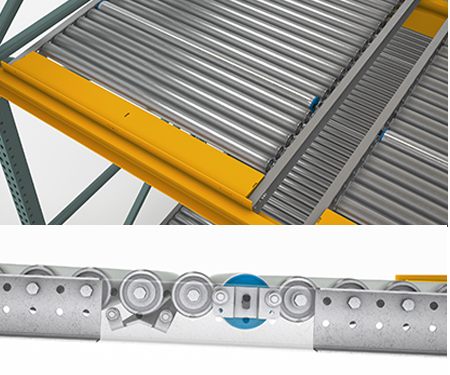 The Mallard 2.5" full roller is as durable as our other pallet flow products while offering even greater surface coverage plus galvanized rollers and rails. It is a perfect solution for non-standard pallets, i.e. plastic pallets, large bins, extra-long pallets, drums, etc. The out-to-out surface coverage keeps non-standard pallets moving in a steady, controlled and consistent manner. PLUS, the 2.5" roller can be equipped with optional "matching" 2.5" drum speed controllers. The low-profile speed controllers are mounted within the lane between the rollers (as opposed to underneath or dropped-in) to provide more braking coverage and seamless transitions.
Ideal for plastic and non-standard pallets
Full-width drum controller maintains safe, consistent pallet speed
Larger rollers can provide greater capacity & increased roller spacing/cost-savings
Galvanized rollers and rails are durable & rust resistant
Heavy-duty, safety yellow ramp stops assure a safe landing at the pick aisle
Practical Application — 2.5" Full Roller Pallet Flow Rack Gets Tested
The Mallard Testing Lab recently tested out the new 2.5" full roller lane design vs our split rail roller pallet flow lane for a customer with flimsy, disposable, plastic pallets. Here is the test application and results:
Inventory
Pallets: Flimsy, disposable plastic pallets
Load Weight: 2000 lbs.
Test 1
Pallet Flow Lane: 3-rail split roller
Indirect mount speed controllers
Result –  The test video shows the plastic pallets bow in the split rail pallet flow under the heavy weight of the inventory.  The bowing prevents the pallet from making good contact with the center rail thereby not allowing the speed controllers to function properly and control the pallet speed.
Test 2
2.5″ full roller pallet flow
2.5″ drum speed controller
Result – In this second test it is easy to see that the pallets flowed very consistently and controlled down lane. As well, the pallet restarted without assistance after being stopped in the lane. Even with the full roller pallet flow rack, these pallets didn't make complete contact with the rollers because of the extreme load weight and the quality of pallet, but the full roller was enough coverage to make up for the differential.
This test lane was also equipped with a full length ramp stop to ensure the heavy pallet comes to a controlled and safe stop at the end of the lane.
Heavy duty, 8 gage steel construction
Powder coated "safety yellow" for easy identification from fork truck
Rounded corners on ramp stop and side frames protect workers and product from damage via sharp edges/corners
Wider stop = more surface area to stop heavy pallets
Custom angled stop with heavy-duty lip
We'd like to thank our customers, as always, for constantly challenging us to come up with new and better ways to meet your ever changing needs. Our gravity flow experts are always available to discuss your warehousing and inventory challenges, just give us a call.
1-800-243-6694 US Only
1-815-625-9491
info@mallardmfg.com