Each customer, every project and ALL Mallard solutions are unique.  This certainly makes life interesting for our design team and calls for some creative, flexible accessories like our Floor Mounted Pallet Flow Supports to guarantee just the right customized fit for your application.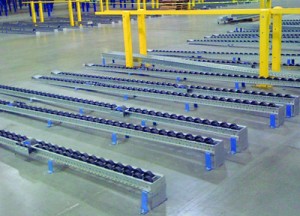 You have two options when mounting pallet flow lanes to the floor… level pallet flow that is push-assisted or gravity fed pallet flow which is mounted at a slight incline.  If you are flush-mounting level lanes, they can be lag bolted to the floor, but if you are slightly elevating them then Mallard custom designed supports are the answer.  Unlike many traditional systems, Mallard mounted supports are manufactured and installed to your specific height requirements.
Advantages of Mallard Floor Mounted Pallet Flow Supports:
Provides a lower profile than pallet rack mounted pallet flow
Adds an additional pallet flow lane below pallet rack for order selection
Creates easy access for floor level cleaning below pallet flow lanes
Offers a less bulky alternative than pallet rack mounted options
Can be used on stand-alone lanes or integrated on one side with opposite side mounted on pallet rack
Mallard manufactures a number of floor mounted support options for all pallet flow rack types – several of our options are adjustable to accommodate product, pallet and application changes.
Types of Mallard Pallet Flow Floor Mounts:
Magnum Wheel
Hat Channel Supports manufactured to your custom height specifications
Welded Tube Supports with front channel bumper
Adjustable H Supports
Hat Channel Supports manufactured to your custom height specifications
Welded Tube Supports with 3-rail bumper
Adjustable H Supports
Hat Channel Support manufactured to your custom height specifications
Welded Tube Support with front channel bumper
Adjustable H Support
To learn more about the different types of Mallard Floor Mounted Pallet Flow Supports download our specification sheet, or to speak with a Mallard Representative about customizable solutions for your warehousing needs, contact us at:
1-800-243-6694 US Only
1-815-625-9491
info@mallardmfg.com