Full Roller Pallet Flow Equipped with 2.5″ Diameter Roller Brakes
Nothing stops the sweets from coming… at least not in this full roller pallet flow lane. See how the Mallard team pulled together a successful test of these plastic picture frame pallets for a worldwide confectionery products manufacturer.
Plastic Pallets Prove Puzzling
Plastic pallets are commonly used in food manufacturing. However, these test pallets provided by the manufacturer presented more of a challenge than the inventory load weights we were testing. Of the three pallets received, most were damaged in ways that can disrupt a good, consistent flow in a dynamic storage solution like pallet flow rack. Here's a closer look: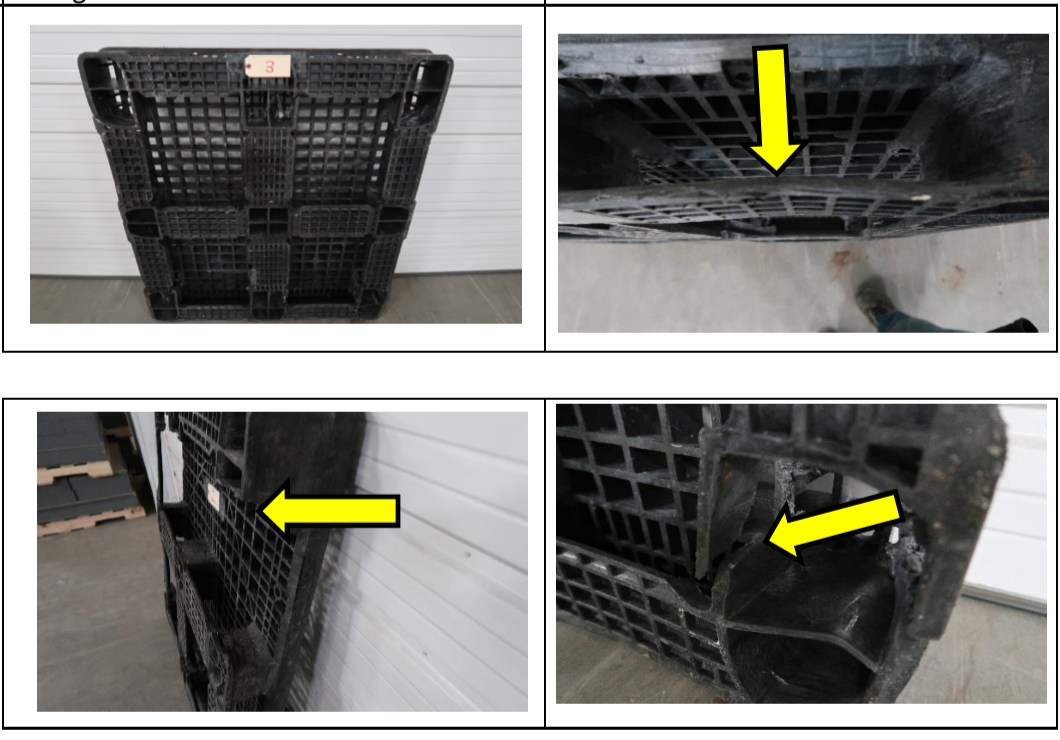 Pallet Specs:
Plastic picture frame style
Size – 40" x 48"
Loaded weight – 2200 lbs.
Condition – Fair to poor
Each pallet showed damage in the form of missing parts, cracked runners, and bowed areas… all of which can cause hang-ups in a pallet flow lane. Luckily, the 2.5″ full rollers provided sufficient surface-area coverage to move the pallets consistently down the lane.
Additionally, the pallets restarted easily when the front pallet was removed by the forklift. Watch the test video as the Mallard team actively tries to hang the pallets up in the lane.
Pallet Flow Lane Design:
System Type – 2.5″ diameter full roller pallet flow
Wheel Centers – 3″
Speed Controllers – Drum roller brake
Speed Controllers Spacing – 45″
Pitch – 3/8″
Rail spacing – 53″ out to out
---
Beating the Drum for Pallet Flow Safety
The addition of the 2.5″ diameter drum speed controller (roller brake as it is sometimes referred to) was essential to ensure tracking and pallet speed safety as the heavy pallets flowed. As gravity is the power behind roller conveyor rack, it's important to effectively control the pallet speed through pitch and, as in this case, the specially-designed brakes. The drum rollers mount right within the lane in-between the regular pallet flow rollers and act to slow the pallet momentum. The drum rollers were mounted at 45″ intervals down the full lane to keep contact with the pallets as they progress.
The rollers are also galvanized to be rust-resistant and in keeping with food safety recommendations for cleaning and wash-down.
Drum Roller Speed Controller Features
Ideal for plastic and non-standard pallets
Full-width drum controller maintains safe, consistent pallet speed
Larger rollers can provide greater capacity & increased roller spacing/cost-savings
Galvanized rollers and rails are durable & rust resistant
Heavy-duty, safety yellow ramp stops assure a safe landing at the pick aisle
---
And a Cherry on Top
There's no need to sugar-coat these final results. This full-roller pallet flow system is an effective warehouse solution for this manufacturer. Perfect for minimizing traffic and congestion, reducing labor and equipment use as well as keeping inventory organized with dedicated lanes, gravity flow conveyor rack is the right choice. Can the Mallard team help you find your best storage and productivity match? Give us a call today. Our gravity flow experts are ready and available to help.