Considering layer picking for high-volume inventory staging and fulfillment? Good decision. Layer picking builds mixed-SKU (rainbow) pallets far quicker and less costly than hand picking. Customers often see immediate cost savings and up to 10x greater output by eliminating manual case picking and all the related injuries, fatigue, and errors.
Supercharge Layer Picking with Pallet Flow Fed Lanes
A traditional layer pick operation relies on static floor-stacked pallets and lots of forklift activity in and around the area. Using pallet flow lanes to feed the layer pick line reduces vehicle congestion, provides reserve pallets right in the SKU lane, automatically replenishes the pick face, and improves warehouse safety. Mallard's proprietary Layer Pick Separator is the key to making it all work. The separator functions to isolate the front pallet from rear pallets so that the layer pick device can cleanly and efficiently pick the cases and remove the empty pallet.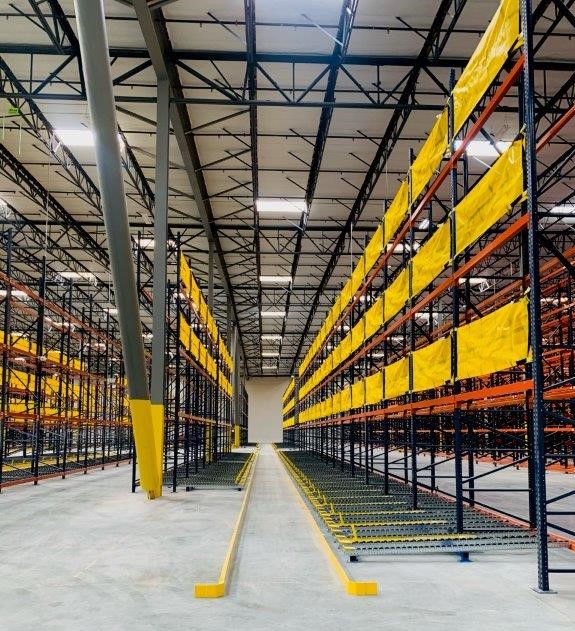 Advantages
Increased case picking productivity
Automatically replenished pick aisle
Fast, safe empty pallet removal
Reduced worker injuries & costs
Less traffic and congestion in the pick zone
Easy to integrate with AGVs
Design Considerations
Floor-level pallet flow only
Lane depth from 2-5 pallets deep (max. 4 pallets behind separator)
All pallets must be the same depth (32" – 48")
Add up to 24" clearance for layer picking attachment
Installs beside center rail in 3-rail lane
Use customized Mallard pallet flow supports in the last two pallet positions for proper function
Available for wheeled or roller pallet flow.
Application Details
Floor-mount the pallet flow lanes on a single side or both sides of the layer pick line, whatever configuration works best for your inventory needs.
Equip each lane with the layer pick separator to isolate the front pallet and hold back the rear pallets. The layer pick separator provides the needed distance between the front and rear pallets to allow the layer pick device to surround the case layer for a clean pick. Without the separator, the rear pallets would sit too close to the front pallet and the rear pallets would transfer back pressure to the front pallet making the empty pallet more difficult to extract from the lane.
The separator automatically releases the rear pallets to flow forward when the empty pallet is removed and reengages to hold the rear pallets back once the pick face is filled.
---

Measurable Productivity Benefits
Layer picking using pallet flow makes sense for distribution facilities that ship case volume in layer quantities roughly 1,000+ layers per day. With high-velocity SKUs on both sides of the picker, the operator can pick orders close to 10 times faster than hand-picking cases at a rate of about 1200-1250 per hour vs. 240-250 by hand.
Additionally, high-volume picking can usher in a more flexible pick line allowing for SKUs in the pick zone to change by shift, or day depending on demand. With productivity increases and labor and equipment cost savings, ROI is quickly realized.
Download our New Layer Pick Brochure for helpful information on building rainbow pallets with pallet flow fed layer picking and be sure to contact our gravity flow rack specialists for application specs, tips, and design ideas. We are always available to help.