Awkward or over-sized, extra-heavy or just downright difficult loads –
Bring them on!!
There's nothing our engineers like more than an interesting pallet flow challenge.  Let's face it, it's in their DNA.  And, it's become Mallard's modus operandi. Mastering the standard "stuff" is no less important, but the further-reaching, custom pallet flow project is a niche we're all very proud of after almost 60 years in operation.
The challenge starts in the field with a tricky application idea – it moves to our in-house testing lab for system selection and testing – and ends with a custom pallet flow solution that achieves optimal space utilization, performance and throughput.

Mallard Testing Process:
Challenge Review – Working closely with our distributors and their clients, we define the problem and end goals.
Brainstorming – Pulling from years of product evaluation and testing, we develop application options.
Testing Plan – Using simulated load and package conditions, we test (and re-test) a number of variations of the following criteria until we get it right.

Roller types and sizes
Space allocation
Lane design, depth and pitch
Speed controller and brake systems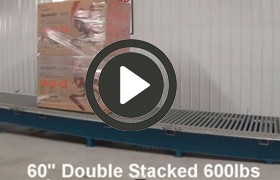 Here's a great example – An electronics manufacturer wanted to use pallet flow to store 60″ and 70″ double stacked, flat screen TVs.  These over-sized, top-heavy loads were evaluated in a 30′ test lane at 1/2″ pitch with Mallard's full roller pallet flow with 1.9″ diameter rollers on 4″ and 3″ centers, using various spacing and braking options.
The Results: 
The 3″CC testing produced the best combined flow results for 60″
and 70″ TVs, but due to the accelerated rate of flow for the 60″ TVs, an
additional brake was needed on the discharge end to reduce speed prior to the
end stop.  It was recommended that distinct lanes be used for both 60″ and 70″ units in order to provide the ideal brake spacing for each. Mallard's creative engineering, design and testing produced a custom solution this customer can rely on to achieve their space and productivity goals.
Do you have a challenging pallet flow project?  Call our testing team – they'd LOVE to help find a solution.
(800) 243-6694 (US Only)
(815) 625-9491
info@mallardmfg.com