Pallet Sizes Change but Full Roller Pallet Flow Rack Keeps Flowing 
Last week we provided some answers to FAQs that we get from customers regarding our full roller pallet flow rack systems.  In that blog, we said this about Mallard full roller pallet flow:
"Full roller is also the most flexible type of pallet flow rack, ideal for users who have a variety of pallet sizes and footprints. As pallet configurations change, the system design can remain the same."
Little did we know that our testing lab was proving out this very point for a customer with not just two pallet sizes… but 9 different pallets!  In an extensive pallet evaluation, our testing lab engineers determined that full roller pallet flow rack is the most adaptable solution for this customer's need. They also established the best pitch and pallet configuration… yeah, that's how we roll!
T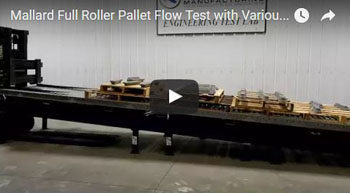 ake a look at the video to see for yourself.
 The Test:
Pallet sizes: small, standard, extra-long, extra-wide and extra-long
Pallet weight: lighter weight ranges 200 lbs. to 340 lbs.
Flow Lane: 30' 1.9 diameter full roller on 3" centers
Accessories: Mallard indirect mount brakes were used to control the flow of the pallets
 The Result:
While all pallet sizes tested well when positioned with the bottom boards in the direction of flow, we found that pallets placed perpendicular to the pallet flow lane did not flow as efficiently.  Also, pallet condition (as we always say) contributed to some less than perfect flow (see photos).
If you're wondering if full roller pallet flow rack, or one of our other pallet flow types, is the best answer for operational efficiency, call the Mallard testing lab today!
1-800-243-6694 US Only
1-815-625-9491
info@mallardmfg.com