Well it's been a busy year at Mallard Manufacturing and looking back we can say, "It's been a great year!"  We learned a lot, came up with some pretty innovative gravity flow solutions and developed new products and accessories that helped our customers improve efficiency.  We could hardly ask for more.  Take a look at a few of the highlights captured in Mallard's weekly blog…
2015 Blog Highlights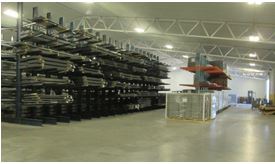 In an effort to increase manufacturing capacity, Mallard Manufacturing embarked on an expansion and upgrade of our manufacturing and testing facilities. We completed the upgrades this past year and are very pleased with the results.  
Check Out What's Happening In Sterling
---
While pallet flow rack has been an industry standard for a long time, Mallard pallet flow stands apart for many reasons.  Our manufacturing and material details are significant but also are our accessory products.  Here are two examples – 
What Is a Flanged Roller and Why Use It For Pallet Flow
Boost Pallet Flow Productivity with Entry Guides

---
Throughout the year, we also offered tips on how to properly maintain your pallet flow racking systems and how to order new and replacement parts, both quickly and easily – Pallet Flow RFQ Checklist
We can't leave out this simple trick for fixing a pallet hang-up – Plugging the Pallet Flow
---
New products and accessories at Mallard are often born from a customer challenge.  Here are two examples of unique and upgraded products, the mobile Carton Flow Work Cell and Pallet Jack Access Ramp for pallet flow. Both helped fill specific warehousing and assembly needs in an economical way.
Pallet Jack Access Ramp for Pallet Flow
 
---
No Year-In-Review for Mallard 2015 would be complete without a major "shout-out" to our experts and engineers in the Mallard testing lab.  These dedicated professionals handle every query and challenge that comes their way and come up with reliable, workable solutions to help our customers.  Numerous videos and blogs have been written about this team and their unique approach to gravity flow issues, but here are two of our favorites.  Remember, never hesitate to reach out to us to give us a challenge… we love to watch these guys at work.

Take a look at a recent test run in our in-house testing facility for a major pharmaceutical company.  The 40" x 48" plastic pallet in this test has a weight capacity of 1,500-2,000 lbs.  The pallet flow system was a full roller lane on 3" centers.
Some Things Aren't Meant for Pallet Flow…But We Can Fix That!
Pallet Flow and Plastic Pallets, Why We Test Every One
---
We'd like to thank our customers for joining us on our journey.  We look forward to many new ideas and creations in 2016! 
Happy New Year from the Mallard Team!