Mallard full and split-roller pallet flow systems are built to endure rigorous, daily use in busy warehouse and fulfillment operations. Properly configuring your system to go the distance, though, has everything to do with your specific inventory and pallet type. Related to that and an important part of the overall system configuration is how the rollers are mounted to the flow rails.
Because this is so important for the optimal function of your pallet flow system, the Mallard team is here once again with our Best Practices advice to explain… how and when to choose between high or low mount positions for your rollers.
High mount means that the rollers are mounted to the rails to sit slightly above the top of the rail.
Low mount means that the rollers are mounted to the rails in such a way the rail extends above the roller leaving essentially a lane guide. Here are two examples:
Mounting either "high" or "low" within the pallet rack bay is not an arbitrary selection. As noted below, there are specific reasons for choosing one over the other.

As you can see, mount positioning has to do with the pallet design and load specs. The other consideration that is important to understand regarding high or low mounting of your rollers is if your system will also have pallet flow entry guides.
A Little Extra Guidance
Pallet flow entry guides provide visual assistance for forklift operators to ensure pallets are loaded squared (centered) within the pallet flow lane. Additionally, entry guides can improve productivity and accuracy by providing better lane visibility which also reduces the risk for product and equipment damage.
Depending on the position of your rollers (high or low), your entry guides will be mounted from the top or side to ensure best possible function. The charts below delineate the alignment of the roller and guides to the rack system.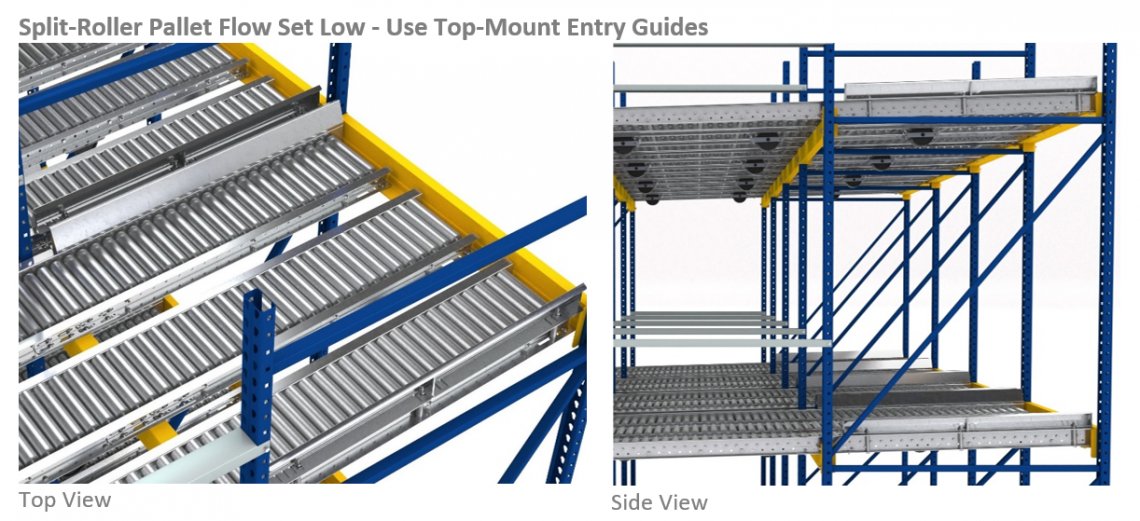 Be sure to check out our full series of product illustrations in our Gallery page.
A little more about full and split-roller pallet flow…
Mallard's full-roller pallet flow rack is by far the most flexible type of pallet flow, ideal for facilities handling a variety of pallet sizes. As pallet configurations change, your pallet flow system will remain efficient and reliable.
Mallard's split-roller pallet flow is ideal for heavy, extra-wide, unwieldy loads in that may be more likely to shift or deflect as it flows down lane in a full-roller system.
The Mallard team is committed to ensuring that your pallet flow system is optimally designed for your unique inventory and operation. Contact us to learn more about our pallet flow and carton flow products and options for streamlining your storage and fulfillment operations.
Other Mallard Best Practices Blogs:
Carton Flow Design & Pallet Rack Integration | Mallard Best Practices
Building the Foundation for Ideal Pallet Flow | Mallard Best Practices