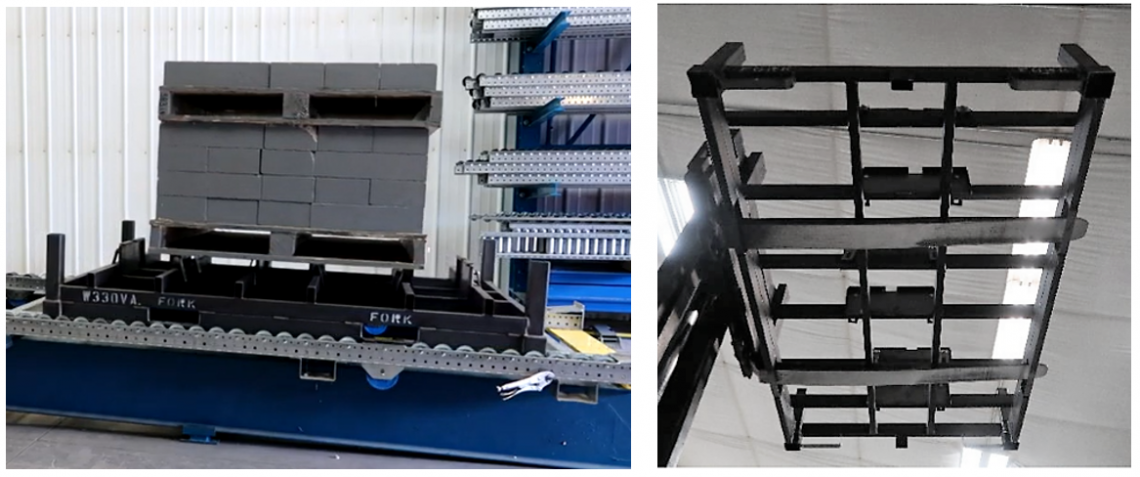 The Mallard in-house engineering testing lab was created for situations just like this latest pallet flow test. An industrial manufacturer of arc welding and cutting equipment needed a more productive method of inventory flow. The challenges our team faced in developing the best pallet flow solution were the oversized custom metal container and the heavy load weight (roughly 3000 lbs. when double stacked).
The Mallard team relied on our flanged roller pallet flow for this application. Watch the test video:
Pallet Type
Metal containers with stackable feet – 46" w x 74" d
Weight 1500 lbs. (Double stacked 3000 lbs.)
25" Runners on the outsides.
The flanged roller for split-roller pallet flow was developed to prevent unique loads, including plastic pallets, metal containers, totes and other non-conventional pallets from drifting side to side as they flow down lane. Unlike traditional wooden pallets, these alternative pallets and containers tend to wander as they flow. A flange, added to the outer edge of the exterior rollers, essentially creates a self-guiding lane for the pallet or container preventing it from drifting while still maintaining a smooth, consistent flow.
Split-roller pallet flow is available in 1.4", 1.9" and 2.5" diameters. In this application we used two rails of 1.9" rollers with 3" wheel centers. To help ensure a controlled flow, the engineers added drop-in speed controllers at 76" intervals and bolt-on ramp stops at the discharge end of the lane. They recommended entry guides as well to protect the system long-term and get the best use of the flow lane.
---
Pallet Flow Lane Accessories
Entry Guides – the guides will ensure that the containers are loaded centered in the lane and don't bend over or interfere with the flanges on the rollers during loading.
Drop-in Speed Controllers – control the speed of the containers as they flow. They're quick and easy to install and are available in light, medium and heavy-duty options depending on inventory needs.
Ramp Stops – ensure this heavy, loaded inventory comes to a safe, secure stop at the discharge end of the lane and is held in place until extracted by the forklift.
The metal containers that we tested were brand new and in excellent condition. A caution for this customer is that damaged containers with bent runners and/or fork pockets may not flow as expected. Keeping the containers in good shape and being careful not to load compromised material into the system will keep it flowing efficiently and provide the needed productivity enhancement. Actually that is a caution we provide for all our pallet and carton flow customers.
For more Mallard engineering test-lab challenges and videos, check out our YouTube Channel or the blog page on our website. Also, we want to hear from you! So, give our team a call to discuss your warehousing challenges today.