Pallets weighing over 2000 lbs. are not something to be taken lightly. Ok, pun aside, maneuvering heavy pallets around a busy warehouse is a serious safety and productivity concern. Whether consisting of construction materials, frozen foods, auto parts or home décor, pallet flow rack is a valuable tool for protecting your inventory and warehouse staff while achieving high productivity.
The Mallard Engineering Testing Lab recently tackled this very challenge for a customer with excellent results that we're happy to share.
Pallet Flow Lane Design
Pallet/Inventory Specs
Wood pallets 60" x 48"
4 bottom boards
Evenly distributed loads
Pallet condition varied good to poor — poor pallets showing multiple broken runner boards
Pallet Flow Test
The pallets tested flowed well in the pallet flow lane as configured. The Magnum wheel rails were staggered and placed so that the 4 runners on the bottom of the pallet would make direct contact with the wheels.
Magnum wheel is the most durable pallet flow wheel. It's wider by comparison to industry-standard polycarbonate-based wheels which provides better tracking of heavy inventory or difficult pallet loads. Magnum wheels also support twice the load capacity than IE wheels. Mallard offers Lifetime Abuse Warranty on Magnum wheels with complete confidence knowing that they are manufactured to handle the work for the long haul.
The inclusion of drop-in speed controllers controls the flow of the pallets and help them avoid deflection. Pallets squared in the lane is faster and safer to remove by forklift.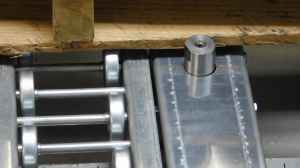 The Ergo-Cell pneumatic separator is a crucial element in this configuration. As you can see in the test video, the air-pop controls hold the rear pallets back several inches from the discharge pallet relieving it of back pressures. The backpressure in a lane like this would be calculated as:
2050 x 3 x .06 = 369 lbs. of extra combined pressure on the discharge pallet in a four-deep system.
The pick face, discharge pallet is secured in the lane with Mallard's signature bolt-on ramp stops. The stops are manufactured from heavy-duty, 8 gauge steel. They also boast enhanced features such as rounded corners to protect workers and a custom angle to ensure pallets remain in the lane until removed by forklift.
Productivity Hazards
Quality pallets keep your workers safe and productive. Broken boards on the bottom of pallets can catch in pallet flow lanes and cause pallets to get stuck in the lane. Additionally, missing boards could jeopardize the ability of the pop-up control to hold the pallet back. Forklift operators are encouraged to quickly scan the pallet before loading into the pallet flow lane to avoid productivity challenges and potential worker danger.
Contact the Mallard gravity flow experts to discuss your pallet flow and carton flow needs, design ideas and a quote.
To learn more about Magnum Wheel check out our comparison spec sheet: http://bit.ly/MagnumWheel.