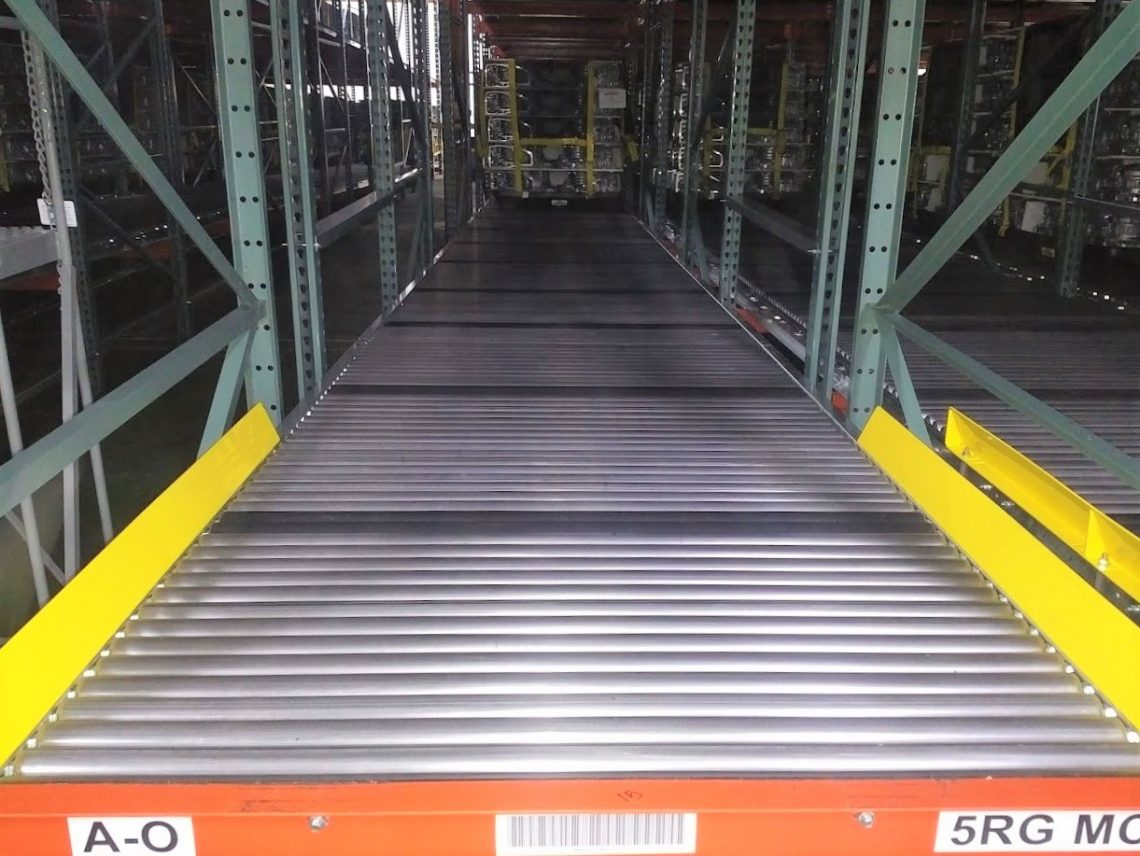 Full roller pallet flow is a popular pallet flow solution for good reason. It is manufactured to go the distance using heavy-duty components designed to be reliable in hectic warehouse environments. More than that, the full-width design allows for pallets of different sizes and configurations to flow dependably making it ideal for distributors that make quick inventory adjustments. And could there possibly be more than that? You Bet!
Case Picking & Parts Assembly without Back Pressure
Case picking and parts assembly from floor-mounted full roller pallet flow keeps operations moving with ready-reserve inventory and automatic pick face replenishment. Now it is even safer and easier with the introduction of FRFS 202 – Full Roller Flex Separator. Our new pallet separator is easier to apply to the full roller lane as it is fitted right within the 1.9" diameter rollers and automatic release mechanism doubles as a ramp stop to stop and secure the pallet at the pick face. Here, take a look at the flex separator in action:
FRFS 2020 Full Roller Flex Separator Applications
Available for use with Mallard 1.9" pallet flow rollers
Applications –

Manufacturing
Produce
Bulk or High-Volume Fulfillment,
Automotive Assembly
Appliance parts assembly

Suitable for non-standard or plastic pallets OR applications with a variety of pallets
The role of the pallet separator is to hold and lock the rear pallets a safe distance from the front pallet. That small separation, typically 12" between the pallets, is effective in removing the backpressure that would otherwise press upon the front pallet. With the back pressure removed, the empty pallet can be easily and quickly removed from the lane by hand in busy case picking or assembly applications without endangering workers. The rear pallets automatically advance once the empty front pallet is removed.
Without the flex separator, the backpressure will accumulate on the front pallet and that can amount to hundreds of extra pounds. For example, in a 5-deep pallet flow lane with 2000 lb. pallets…
4 pallets x .06 (pressure) x 2000 lbs. = 480 extra pounds of pressure would weigh down on the empty pallet that the worker is charged with handling and removing from the lane.
Now, apply the full roller flex separator and the pressure drops to ZERO… along with worker injury, downtime, and worker's compensation expenses.  Your productivity, on the other hand, gets a boost.
Full Roller Pallet Flow Advantages
Ideal for plastic, pod, or custom pallets and applications with varying sized pallets
Fits all major pallet rack systems
Secures with custom low-profile or heavy-duty use mounting brackets
Low maintenance
Using floor-mounted full roller pallet flow for case picking and parts assembly ensures productivity without compromise. Try our new simplified flex separator application in your next full roller lane design for safer case picking and assembly across all pallet sizes and varieties.
The Mallard team is available to help you properly configure your pallet flow lanes. We encourage you to take advantage of our full line of pallet separators for all of your pallet flow needs. Contact our gravity flow experts for design ideas, warehouse solutions, pricing, and availability.