Mallard Exhibits Foodservice Solutions to Meet Demanding Throughput Goals
There will be a lot to see and do at the IFDA Solutions Conference and Expo next week but we promise there is one place where the ideas will be flowing and that is at Booth #257. The Mallard Manufacturing team will be on-hand to demonstrate the many gravity flow solutions specific to the needs of the foodservice distribution industry.
As an industry leader in pallet flow, carton flow and gravity conveyor warehousing systems we've seen our share of facilities and met our share of challenges. We appreciate getting the chance to talk with old friends to see what current needs they may have as well as meeting new industry folks.
Here are some of the product categories that we specialize in to help you meet the ever-increasing demands of the foodservice industry:
Pallet Flow Racking
Carton Flow Rack
Gravity Conveyor
Pick Module Solutions
Pallet Flow:
Pallet flow racking is a FIFO pallet storage method that offers both shallow and deep-lane options. Using separate load and pick aisles, warehouse traffic is kept orderly and efficient.
In a deep configuration pallet flow can store up to 6-8 pallets.  In a shallow configuration pallet flow can be used for layer picking, pick module replenishment and case picking operations. Floor-mounted pallet flow can also be used for standard pallets in the pick area or at the dock for faster, more efficient truck loading.
Pallet separators are a key pallet flow accessory for expanding the use of your pallet flow beyond the basic store and pick.  The separators keep the front pallet free of the weight of the rear pallets to allow for safer case picking and pallet extraction, but also for use with layer pick equipment and lift tables.  Depending on the pallet separator, the rear pallets can be easily released from inside the forklift or with a simple foot release. Check out our full line of pallet separators in our brochure.
Carton Flow:
Mallard offers several lines of unique carton flow products to the meet all kinds of carton, case, tote and each pick needs. Like our pallet flow products, our carton flow products are manufactured to withstand rigorous warehouse load and pick demand without constant maintenance and downtime. They are easily reconfigured for inventory fluctuations and SKU or packaging changes. They can also be equipped with unique accessories to increase pick efficiency and accuracy.
Pick-Modules:
Pick modules can contain several gravity flow solutions working together to optimize order fulfillment while minimizing travel and racking footprint.  Pallet flow can be used for reserve storage of fast moving SKUs, while carton flow keeps pieces organized and pick faces automatically replenished. Gravity conveyor quickly and easily moves orders to complete fulfillment.
Gravity Conveyor:
Heavy-gauge galvanized steel rollers are manufactured to support a variety of load requirements including uneven or awkward containers. Position conveyor flat for push-assisted applications or minimally sloped to flow with gravity and use as part of a pick module or as stand-alone for temporary order fulfillment.
Bottom line is there are so many configurations of gravity flow products and accessories that we can support your unique inventory, throughput goals and your budget.
So, stop by Booth #257 and let's get talking.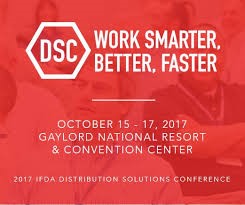 See you at the show!
(800) 243-6694 (USA only)
(815) 624-9491
or info@mallardmfg.com